Our Organization
Our Mission
The Ovarian Cancer Alliance of Greater Cincinnati is a nonprofit organization whose mission is to create public awareness to the signs and symptoms of ovarian cancer, to provide support, resources, and education to ovarian cancer survivors and caregivers; and to fund research focused on early detection, survivability, and a cure.
Who We Are
We are a group of volunteers, many of us survivors, who are committed to making a difference for women in the Greater Cincinnati Tri-State area.
Our Partnership with The Cancer Support Community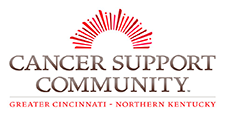 We partner with The Cancer Support Community of Greater Cincinnati/Northern Kentucky to support women affected by ovarian cancer. We provide funding and support to the Gynecological Cancer Networking Group as well as the Woman to Woman program.
Board of Trustees
Andy Walter, Co-Chair
Dianne Weidman, Co-Chair
Robert Payne, Treasurer
Maryann Lonergan, Secy.
Dr. Jack Basil
Anissa Dowling
Dr. Ron Hirth
Brittany Dollard
Margaret Muething
Dr. Dene Wrenn
Shelley Toms
Sophie Lake
Barb Meese
Lisa O'Brien
Julie Stewart
Sarah Wilson, CPN
Lindsey Lonergan
Dr. Amanda Jackson
Jessica Sears
Tom Weidman
Lisa Dalga
Ryan Paquette

Ovarian Cancer Survivor