Our Organization
Our Mission
The Ovarian Cancer Alliance of Greater Cincinnati is a nonprofit organization whose mission is to create public awareness to the signs and symptoms of ovarian cancer, to provide support, resources, and education to ovarian cancer survivors and caregivers; and to fund research focused on early detection, survivability, and a cure.
Who We Are
We are a group of volunteers, many of us survivors, who are committed to making a difference for women in the Greater Cincinnati Tri-State area.
Our Partnership with The Cancer Support Community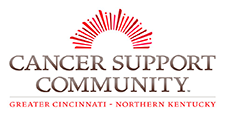 We have entered into a partnership with The Cancer Support Community of Greater Cincinnati/Northern Kentucky. We share a common interest in providing support to women affected by ovarian cancer. We are part of The Cancer Support Community but maintain a separate account for revenue and expenses. This partnership will allow our donations to have a 501c3 status and give us the ability to direct funds locally. We will provide funding to the Gynecological Cancer Networking Group as well as other cancer programs in this area.
Board of Trustees
Martha Farr, Co-Chair
Dianne Weidman, Treasurer
Karen Herzog, Education
Dr. Jack Basil, TriHealth
Sara Wilson, OHC
Phil Farr
Bob Payne
Angela Schunk
Lisa Schwartz
Maryann Lonergan
Sophie Lake
Debbie Walter, Co-Chair
Terry Barrett, Secretary
Andy Walter
Dr. Eric Eisenhauer, UC
Dr. Ron Hirth
Bill Deters, Attorney
Michelle Johnson, CSC
Barb Meese
Julie Stewart
Lisa O'Brien
Lisa Novakov

Ovarian Cancer Survivor