Donations
Donations to our organization can be left at The Cancer Support Community designated to the Ovarian Cancer Alliance of Greater Cincinnati (OCAGC).
Online Giving
If you would like to donate online, click the donate button. You can set up a recurring or one-time donation.
Printable Donation Form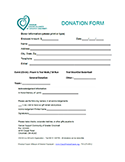 If you prefer, you may click here to download and print our donation form. Please submit a note with your check or write OCAGC in the memo section of the check. Please mail your check and filled out form to:
Ovarian Cancer Alliance of Greater Cincinnati
PO Box 42277
Cincinnati, Ohio 45242
Support Letter
Click here to download our request for donations letter targeted to individuals/companies.
Fundraising Events
Interested is hosting your own fundraiser? A lot of restaurants and stores will donate a portion of their sales during a specific day. All you need is a flyer for people to bring in. Reach out to your favorite restaurant or store to see if they offer a fundraising program! If you have any questions or would like more ideas, please feel free to contact us at cincyteal@gmail.com.